What's behind the "What" posted by Sam Bankman-Fried on Twitter?
Sam Bankman-Fried Has he lost his mind? That's the question being asked by much of the cryptocurrency community following his recent Twitter posts. A series started by an enigmatic "What? which was enough to set people's minds ablaze with improbable speculation. But could this ultimately be a strategy by the ex-billionaire to to erase certain compromising traces…
It all started yesterday (November 14) when. the most watched -and probably most hated- man of the moment posted on Twitter an enigmatic "What?. The latter was preceded by the words "1)", suggesting that there might be a sequel. This has not stopped happening, with a succession of capital letters that ended up forming the word "occurred" just a few hours ago.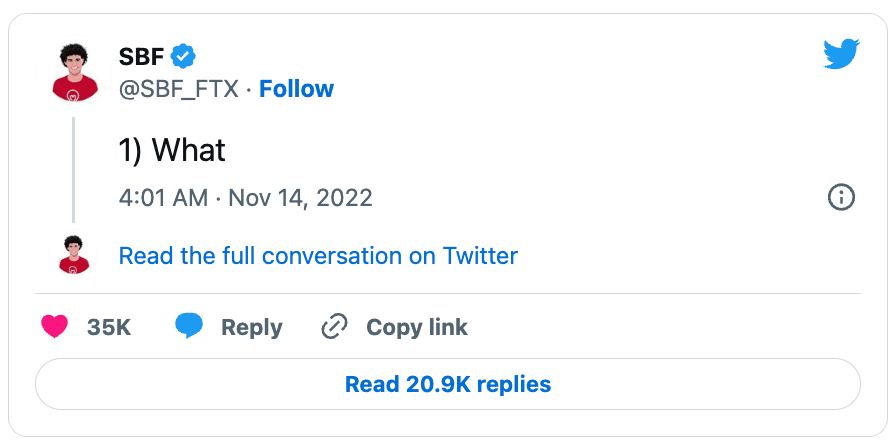 An untimely "what happened" from Sam Bankman-Fried. The latter is directly related to the biggest failure in history of a centralized structure in the fledgling cryptocurrency industry. But after the surprise comes the questioning. And it is clear that this masquerade could well be the tweet that hides the forest.
Sam Bankman-Fried – The tweet that hides the forest.
Of course, all current information related to the FTX affair should be treated with caution. Because it remains difficult to separate fantasy from reality, given the state of shock and disbelief in which the cryptocurrency ecosystem finds itself. Nevertheless, Sam Bankman-Fried's every move is being scrutinized by a horde of scalded internet users. And his latest Twitter posts have not escaped this scrutiny. To the point of raising questions about the real reasons for this insane game.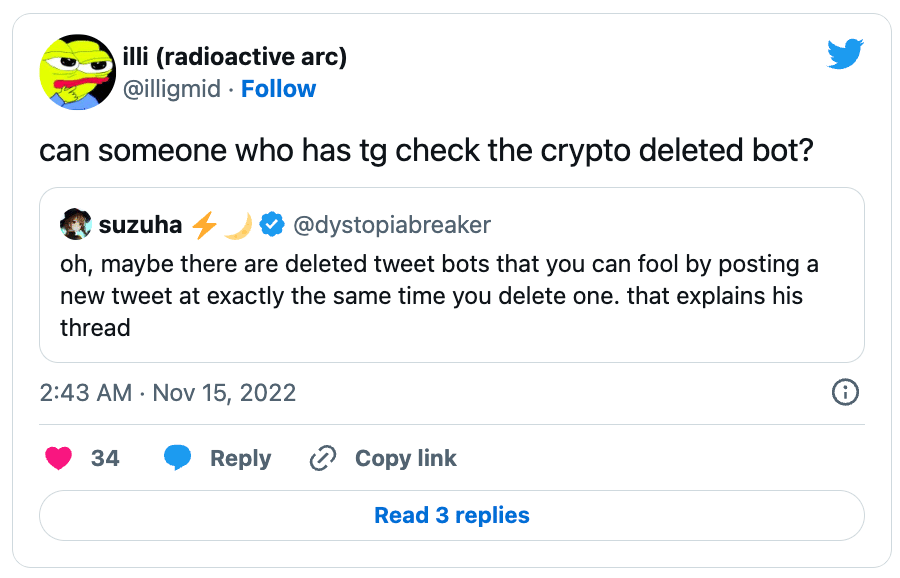 The Twitter account "illi" has just participated in this exercise, with the help of other acolytes. The aim was to determine whether Twitter bots had detected the latest posts deleted by Sam Bankman-Fried. All this during the period when his bizarre series of letters kept a community staring at the finger without trying to figure out what it really meant. And the surprise is a capital one, because "oh shit, so the bot really missed the last 7 he deleted before this stunt?"
Another scandal to add to Sam Bankman-Fried's long list of questionable behavior? Anyway, the rule is simple and he knows it. Elon Musk's new plaything, Twitter, is a centralized company that. Retains the data (even when deleted) of its users.. This little trick -if it is true- will have been useless…