Ethereum analysis – Are buyers mentally weakened?
Whether bitcoin has made new lows for the year, Ethereum stubbornly remains stubbornly far from the $1,000 support. However, the digital currency founded by Vitalik Buterin has, unfortunately. overridden technical signals in an effort to neutralize its bear market since its last ETS in November 2021.
And as we speak, we are back to where prices were wandering between mid-September and mid-October. Especially since the latest technical analysis of ETH should give us no cause for optimism. Right, Buyers seem to be taking a beating following the stigma of FTX's expected bankruptcy. To the point of mentally weakening them. Therefore, the sellers, during a time of doubt, could take advantage of it to push the nail.
Still in a very uncertain market context, let us now see. What levels to watch in the context of a resumption of Ethereum price bearrun or not.
Ethereum in weekly units – watch out for bearish MACD crossover!
A large bearish candle in weekly units was enough to annihilate the last bounce attempt. And for the third time since mid-August last year, prices failed to break below $1,700. At the same time, the break of the descending line was aborted. Not to mention that the 30-week moving average (weekly MM30) also played its role of resistance as did the $1700 level.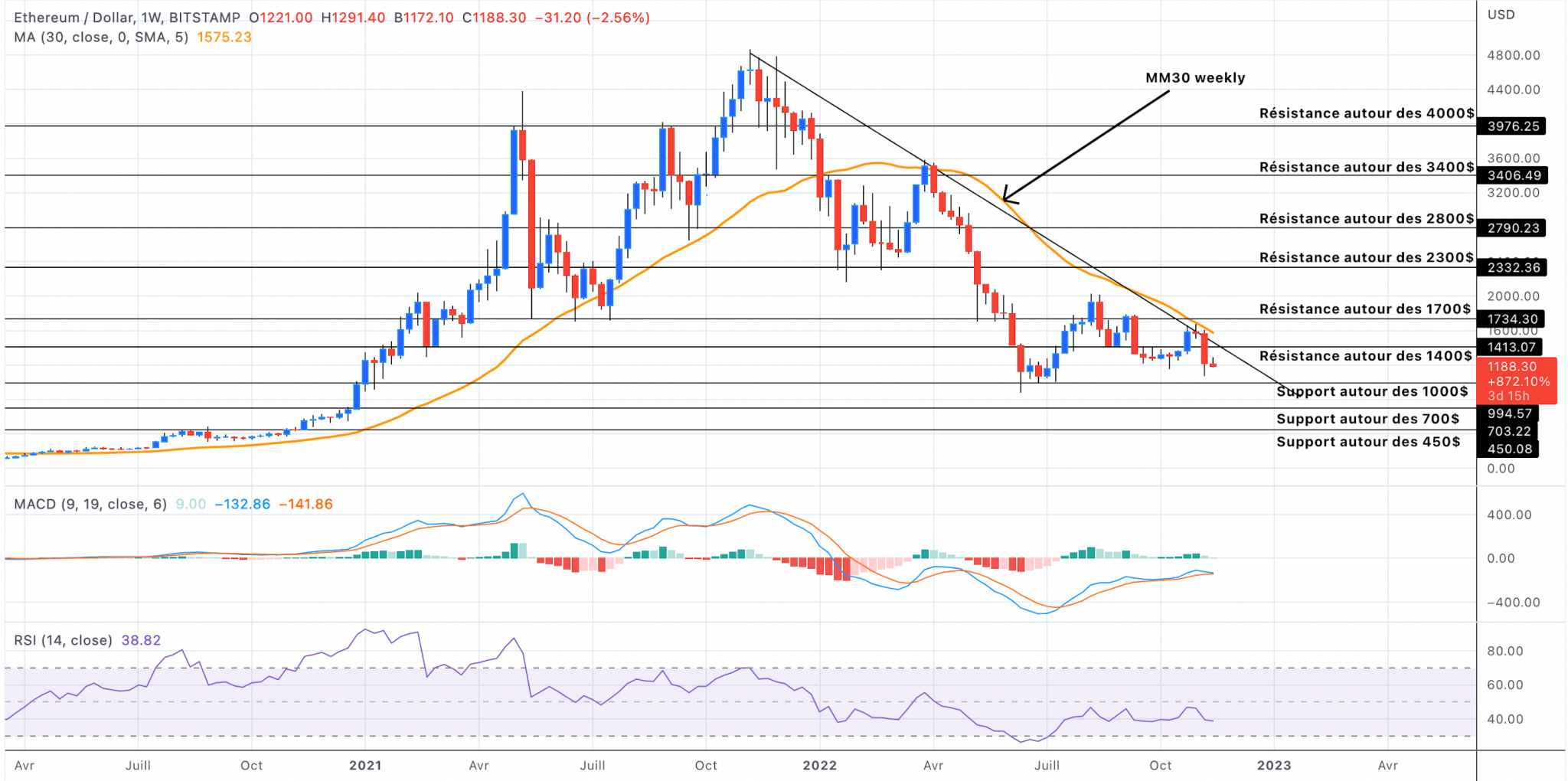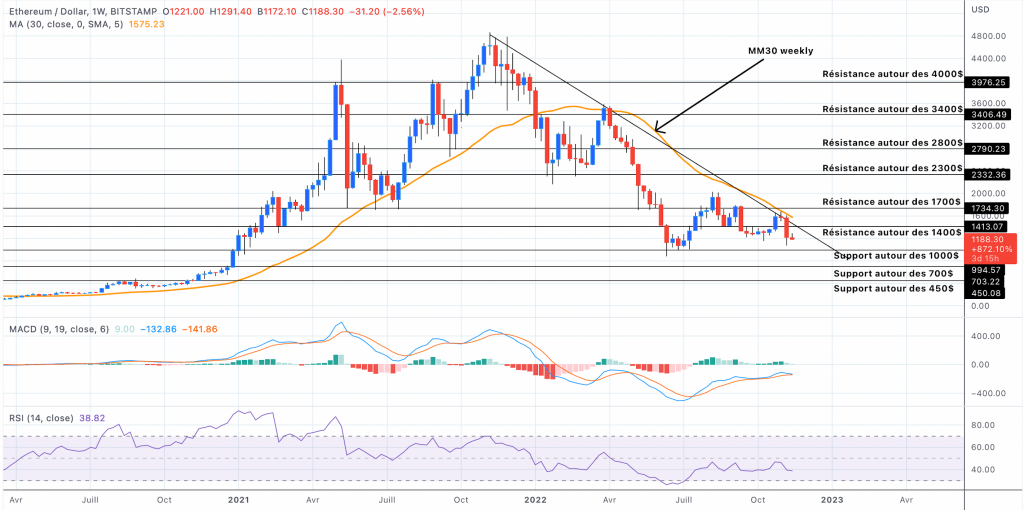 Now, these technical signals would lead us to believe that sellers would be in control of the situation. On the one hand, Weinstein Phase 4 remains as strong as ever. With the weekly MM30 moving down towards $1400. And on the flip side, the technical indicators have stopped moving towards their respective waterlines. In this sense, we must be on guard for a potential bearish crossover of the signal MACD.
Assuming this unfavorable technical signal is in addition to the others mentioned above, ETH prices would reach the $1,000 support level soon.near its lows of the year. And if the bearish MACD crossover becomes more pronounced, there would be room for a third wave of correction until the end of the year with triple-digit prices. This would make 2022 extremely bleak.
Conversely, a simultaneous bullish reversal above $1400 and the downtrend line would save buyers' faces. Although the latest news is not in their favor.
Ethereum in daily units – $1200 support is threatened.
Last Monday, we mentioned that. $1200 support could act as a buffer in the recent Ethereum price decline. At the time of writing, that would be pending a thread. And to make matters worse, the MACD and RSI are below the zero line and the neutrality zone at 50 respectively. Also, like the weekly MM30, the 200-day moving average (daily MM200) continues to move below former support or resistance.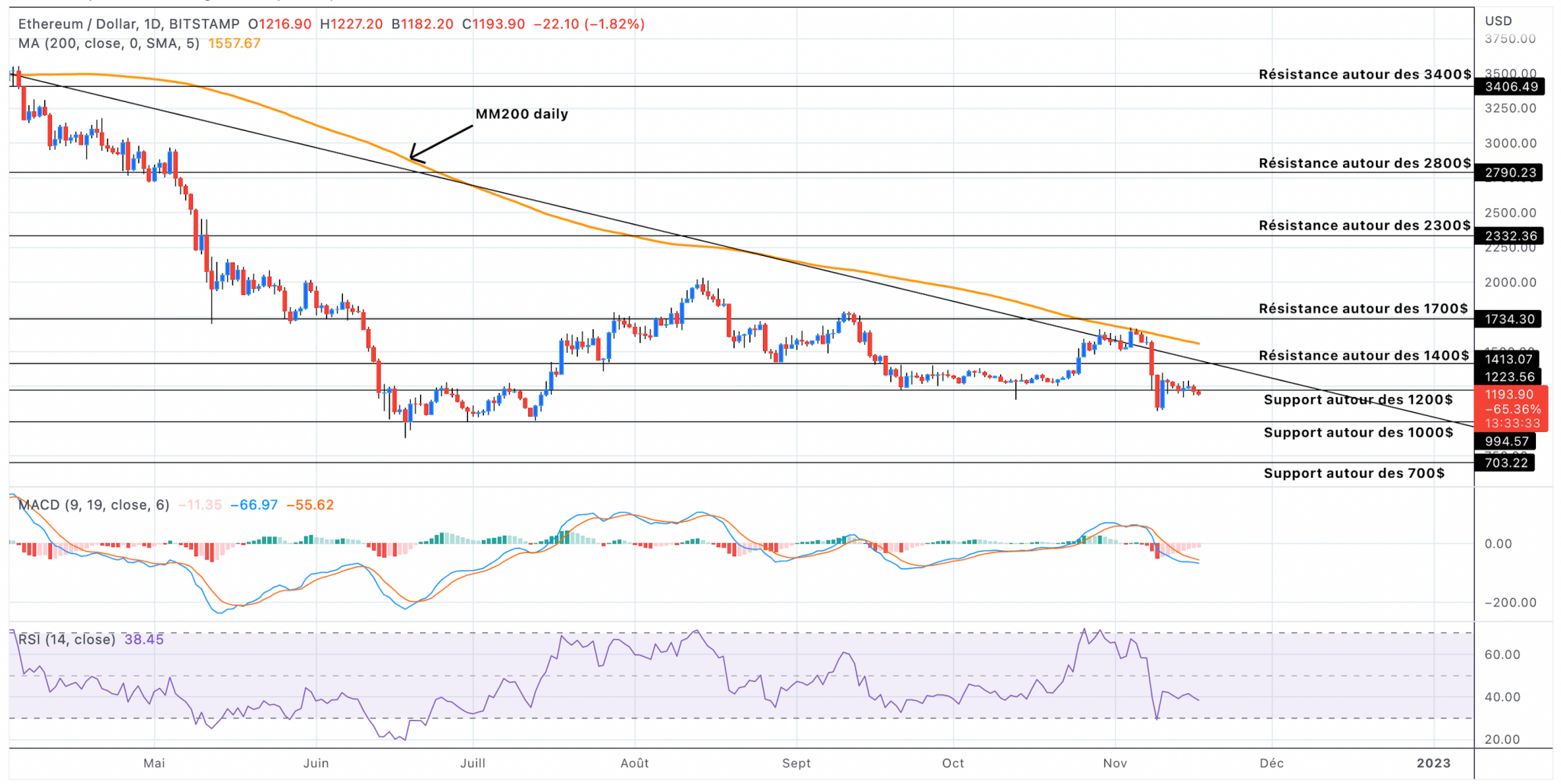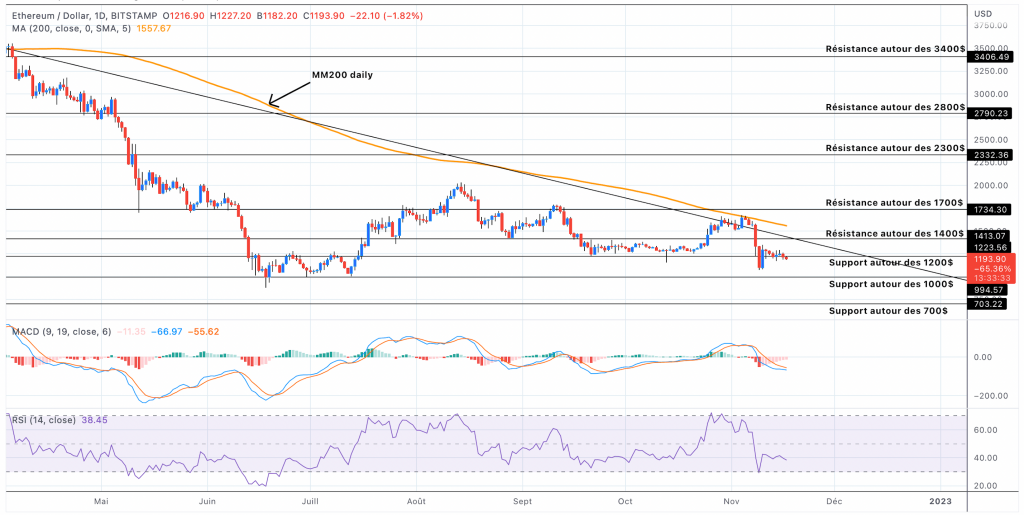 All in all, all the signals we are seeing would potentially lead to further downside. Especially since the RSI has a large margin above the oversold zone set at 30. If the daily chart is anything to go by, the issue around $1200 looks crucial in the outlook of whether or not the ETH bear market will continue. Since its last ETA in November 2021.
Assuming a break of $1,200, Ethereum prices would slide towards $1,000. But should the market environment enter extreme stress, new lows for the year could materialize towards $700. With buyers definitely losing hope. And so ETH would enter the most devastating phases of its bearrun.
ETH – Hard blow for all altcoins.
Ethereum's resistance relative to Bitcoin in recent months should not mask its bear market since its last ATH in November 2021. Not only have we not seen higher highs since mid-August last year. But the latest technical signals, both in weekly and daily units, rather argue for a buyers' rout.
In this case, it would be a big blow to the altcoins as a whole if their leader were to give up $1200 and then $1000 respectively. The Luna and Binance-FTX cases highlight their lack of depth in terms of liquidity. So much so that some of them are unlucky enough to find themselves in turmoil.
Having thought that the worst of the cryptocurrency bear market was finally over, buyers would fear a purge. It would, however, eliminate much of the excesses of an industry that has immense potential for innovation. And probably, it is from this heavy toll that we could distinguish between good and bad projects.
Is it possible to win every time? Whether the Bitcoin price is in good shape, or going through turbulence, CryptoTrader™ allows you to increase your chances of success by its 100% automated algorithmic trading tool..
---
Trading cryptocurrencies carries a high level of risk, and may not be suitable for everyone. It is recommended to be well informed of the associated risks, and only invest amounts that you can afford to lose.
The content provided on the CryptoActu.com website is for educational and informational purposes only. It does not constitute a recommendation and cannot be considered as an inducement to trade financial instruments.
CryptoActu.com does not guarantee the results or performance of the financial instruments presented. Therefore, we do not accept any liability for the use that may be made of this information and for any consequences that may arise from it.