China's currency reaches 7:1 exchange rate against the dollar for the first time in two years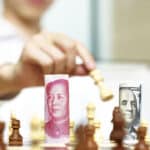 The exchange rate of China's fiat currency against the U.S. dollar has recently surpassed the 7:1 mark for the first time in more than two years, after hitting a new 2022 low of 7.0188 yuan per dollar on September 15. Like other global currencies that depreciated in 2022, the yuan's decline is driven by the strengthening U.S. dollar.
The depreciation of the yuan
The exchange rate of the Chinese currency against the U.S. dollar has passed the seven RMB per dollar barrier, after trading at 7.0188 on September 15, 2022. This is the first time in more than two years that the exchange rate of the two currencies has exceeded this threshold. However, on the same day, the yuan exchange rate had not breached the 7:1 threshold.
According to a article at The Economic TimesThe yuan's depreciation against the greenback comes against a backdrop of a strengthening dollar. The currency's fall also comes against a backdrop of growing fears of a slowdown in the Chinese economy.
However, according to the article, the Chinese central bank's attempts to support the economy by cutting interest rates in August helped trigger a 3% depreciation of the yuan.
On the dilemma now facing the People's Bank of China (PBOC), Ken Cheung, chief Asian currency strategist at Mizuho Bank, said:
The PBOC has demonstrated its willingness to defend the RMB exchange rate from crossing the 10% mark. [les] 7 soon and a rate reduction would be incompatible with this objective.
Cheung is also quoted in another Bloomberg article indicating that he now believes the PBOC is no longer interested in preventing the currency from crossing the 7 yuan per dollar mark, but will try to "delay and soften the pace of the yuan's depreciation.".
The rise of the dollar
The Economic Daily article notes that the yuan is not the only currency struggling with the rising dollar. According to the article, Japanese authorities are also wary of the strengthening dollar, which has pushed the exchange rate between the two currencies from 115:1 on January 2, 2022 to over 143:1 on September 20, 2022.
Like the yen, the euro started the year trading at about 0.88 euros to the dollar, but on August 21, 2022, it reached parity with the greenback. With the exception of some currencies such as the Zambian kwacha and the Russian ruble, many other currencies have had problems with the dollar.
Some economists believe that the U.S. Federal Reserve's attempts to reduce the rate of inflation in the U.S. through regular marginal increases in interest rates may be one of the reasons why the dollar has gained ground against other currencies.