Bitcoin adoption – bitcoin.com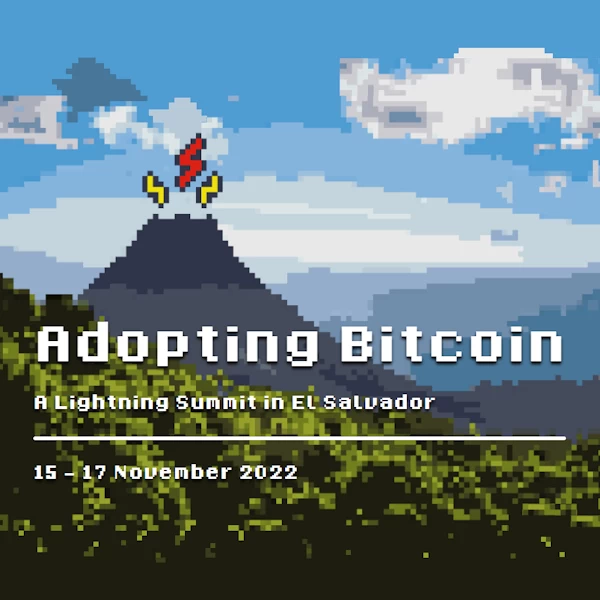 Organized by Galoythe second conference Bitcoin adoption will take place from November 15 to 17, 2022 in San Salvador and El Zonte.
On the program:
– discussions on Bitcoin's technological aspects, code, infrastructure, operation and applications.
– discussions on the economic, social and political aspects of Bitcoin adoption.
The first two days will take place at the Crowne Plaza Convention Center in San Salvador. More than 110 speakers from over 30 different countries will discuss the latest economic and technological developments of Bitcoin. On November 17, participants will go on a field trip to. Bitcoin Beachin the coastal town of El Zonte, where the Bitcoin adventure began.
Bitcoin adoption is a non-profit event. All proceeds will be donated to initiatives that promote Bitcoin education in El Salvador.
Speakers:
– Aaron Van Wirdum, Bitcoin Magazine
– Adam Gibson, Joinmarket developer
– Adam Soltys, Coinos
– Akin Fernandez, Azteco
– Alan Jackson, Pursuing Freedom
– Alessandro Cecere, Ledn
– Alexander Leishman, River Financial
– Alexandra Moxin, Advance Tech Media
– Alexandre Bussutil, bolt.observer
– Alexei Zamyatin, Interlay
– Aljaz Ceru, bolt.observer
– Andrés Galvis, Tatacoa Bitcoin
– Andrew Begin, Galoy
– Andy Schoonover, Crowdhealth
– Anthony Potdevin, Amboss Technologies
– Anthony Park, Executor
– Arun Nedun, Paysea
– Arvin, Galoy
– Austin Mitchell, Synota
– Ben Arc, LNbits
– Ben Bean, Professor
– Ben de Waal, Swan Bitcoin
– Bernard Parah, Bitnob
– Bill Hill, Bitcoin Island
– Bitcoin Dad, The Bitcoin Dad Pod
– Bitcoin Shooter, Comeback Country
– Bob The Builder, Cloud of Tension.
– Burak Keceli, Bitmatrix
– Street, LNbits, Cashu
– Carol Souza, Area Manager
– Chris Hunter, Bitcoin Beach Wallet
– Christopher David, Arcade Labs
– Carla and Walker, also known as "the cryptographic couple".
– DJ Valerie / B Love, Bitcoin, Peace & Music
– Daniel Leiva Fortin, Legal Consortium
– Daniel Trujillo, Tatacoa Bitcoin
– Daniel Wingen, Galoy
– David Oren, Hack a tour
– Desiree Dickerson, THUNDR Games
– Dulce Villarreal, Satoshi's Bookshop
– Dusan Matuska, AmityAge
– Dusty Daemon, Core Lightning
– Edgar Borja, K1
– Egge Starbackr,
– Elsirion, Blockstream
– Eric Rodriguez, Intel
– Eric Yakes, Writer
– Ethan Rose, Pouch.ph
– Federico Tenga, RGB Protocol
– Fernando Motolese, PraiaBitcoin
– Filip Karadordevic, Prince of Serbia / Jan3
– Fran Finney (Hal Finney's wife), Golden West Chapter of the ALS Association
– Francis Pouliot, Bitcoin Bull
– Francisco Chavarria,Yopaki
– Gerson Martinez, New Equity Group
– Giacomo Zucco, BHB Network
– Greg Foss, Looking Glass Education
– Guantai Kathurima, Bitcoin Mtaani
– Guillermo Contreras, Ditobanx
– Hermann Buhr Vivier, Bitcoin Ekasi
– Indira Kempis, Senator of Nuevo Leon
– Jacob Hamilton, Volt
– Javier Bastardo, Satoshi in Venezuela
– JayDeLux, Salva'bourg
– Jeff Gallas, Fulmo
– Jeremy, Escape to El Salvador
– Jesse Shrader, Amboss Technologies
– Joe Mayo, SeedSigner
– Johannes Grill, lightning tip cards.
– John Carvalho, Synonym
– John Dennehy, My First Bitcoin
– Johns Beharry, PEAK SHIFT LTD.
– Jon Atack, Bitcoin Core developer.
– José Rojas Echenique, Galoy
– Joseph Hall, Bitcoin reporter
– Josie, Bitcoin Core contributor
– Juan Fonseca, Galoy
– Justin Carter, Galoy
– Keith Mukai, SeedSigner
– Ken Kruger, Moon
– Kenichi Kurimoto, Nayuta
– Kevin Rooke, Bitcoin podcaster
– Kgothatso Ngako, Machankura
– Kim Neunert, Swan, Specter Laboratories
– Kyle Fry, DIGTL
– Kyle Murphy, PlebLab_
– Mauritius, Latinodos
– Lee Salminen, Bitcoin Jungle
– Leo Wandersleb, Portfolio Scrutiny
– Leo Weese, Lightning Laboratories
– Leonardo, Tatacoa Bitcoin
– Lightrider, Fulmo and LNVPN
– Luis David Esparragoza, BeInCrypto
– Luis Pinedo, Bitfinex Pay
– Marco Argentieri, Fuji Money – Vulpem Ventures
– Marina Spindler, torogoz.dev
– Mathias Linkerhand, Lightning Box
– Matthew Sigel, VanEck
– Max Keiser, The Capital Zonte
– Max Webster, Hivemind Ventures
– MetaMick, Geyser
– Michael Atwood, Oshi
– Michael Bumann, Alby
– Michel Khazzaka, Valuechain
– Mike Jarmuz, Lightning Ventures
– Mike Peterson, Bitcoin Beach
– Milena Mayorga, Ambassador
– Moritz Kaminski, Alby
– Moritz Wietersheim, Specter
– Murch, chain laboratories
– Nicolas Burtey, Galoy
– Niklas Anzinger, Infinity Fund
– Nozomi Hayase, The Way of the Heart
– Obi Nwosu, Fedi
– Openoms, Galoy, Raspiblitz
– Oscar Lafarga, SetLife
– Pablo Fernandez, Swan Bitcoin
– Paco, run with Bitcoin
– Paolo Ardoino, Bitfinex
– Patrick Hiebert, MavenNFT
– Patrick Melder, Bitcoin Lake
– Paul Itoi, Stakwork
– Pedro Solimano, Porta
– Peter Todd, Bitcoin Core developer
– Peter Young, Free Cities
– Piero Coen, Osmo Wallet
– Pierre Berthet, Galoy
– Pierre Corbin, The Great Motion Picture Reboot
– Renata Rodrigues, Fedi
– Rich Scotford, Bitcoin Jungle
– Riccardo Giorgio Frega, Bitcoin Italia Podcast
– Rick Fisher, High Tension
– Rob Valdez, Daszkal Bolton
– Rodrigo Gomez, Bitrefill
– Roger 9000, musician
– Rogzy, Discover Bitcoin
– Román Martínez, Bitcoin Beach
– Roy Sheinfeld, Breez
– Ryan MacLeod, Nuclear Pleb
– Sam Abbassi, Hoseki
– Samantha de Waal, 11 years Bitcoiner
– Samson Mow, Jan3
– SeedSigner, open source software developer.
– Sergi Delgado Segura, The Eye of Satoshi
– Shinobi, Nothing
– Stacy Herbert, The Capital Zonte
– Stelios Rammos, Geyser
– Stephan Livera, Swan Bitcoin
– Stephen DeLorme, Bitcoin Design
– Stina Liland, Bitrefill
– Tristan Thoma, Alphapoint
– Timothy Allen, Free Cities
– Ulf Heyden, media expert.
– Will Hernandez, Paxful
– William Casarin, damus.io
– Vlad Costea, BTCTKVR
– Yagiz Cemberci, Phenixio
– Yves Bennaim, 2B4CH
– Second night, BTC map
Read more: adoptbitcoin.org