A net inflow of 200,000 Bitcoins leaves the exchanges
Key points
Exchange balances are almost 200,000 Bitcoins lower than those recorded in the period prior to the FTX episode, as customers have lost confidence in the exchanges.
This exceeds the insolvency of Celsius in June, where 128,000 Bitcoins were withdrawn from the exchanges in the month following Celsius' demise.
Terra collapsed in May, but since it was a DeFi protocol, trust in centralized entities had not yet broken down at that point.
Only time will tell how serious the contagion from the FTX collapse is.
Confidence in the cryptocurrency exchanges is at a lower. It is not difficult to understand why, as theFTX collapse has shocked the industry. Less than a month ago, FTX was considered one of the safest exchanges.
Customers withdraw Bitcoins from FTX.
The figures bear this out. On CoinJournal.netwe looked at the blockchain, where we saw Bitcoins leaving the exchanges on unprecedented speed following the bankruptcy of FTX.
In the 27 days since the FTX story began, a net of nearly 200,000 Bitcoins have been withdrawn from trading. It appears that thousands of Bitcoin holders are taking off with their Bitcoins, heading for the safety of cold storage.
" FTX was a Tier 1 canon as far as trading is concerned. Its plunge has spooked investors, as it should. The transparency of the exchanges is incredibly low, and the reality is that it is almost impossible to know what is going on behind the scenes. Bitcoin's exit from these exchanges shows that customers are taking notice."In the words of Max Coupland, editor-in-chief of CoinJournal.
Unfortunately, the FTX scandal is far from the only one that has rocked cryptocurrencies this year. How is the customer reaction different this time?
Celsius caused a similar panic
When Celsius sent an email to its clients on Sunday, June 12, 2022 communicating that it was suspending withdrawals from its platform, it was a dagger in the heart of all investors holding assets on the platform.
While these assets were obviously inaccessible, clients quickly panicked that funds held on other lending platforms would soon be at risk as the contagion continued to spread through the industry.
The main difference in this case is that the exchanges were not under pressure. However, customers continued to panic, as the chart below shows. Exchange balances dropped by 128,000 Bitcoins over the next month, with over 100,000 outflows in a 5-day period shortly after Celsius became insolvent.
Terra's death spiral was different
The third shocking variable that shook the cryptocurrency markets this year was Terra's death spiral in May. In fact, that's where it all started. Celsius fell in the ensuing contagion (something in what He was caught up in Along with Three Arrows Capital, Voyager Digital and many other companies.
Specifically, that's when trading firm Alameda Research suffered huge losses, prompting Bankman-Fried to send FTX customer deposits to bolster the firm's liquidity. So, in a sense, it all stemmed from Terra.
But Terra was different because it was not a centralized company and it turned out to be insolvent. It was a decentralized funding protocol with a flawed model. So the customer reaction was very different.
We can check this by looking at the flow of Bitcoins to and from the exchanges in the following table.
Note that the early days show a massive influx of Bitcoins to the exchanges. This was the largest treasure held by the Moon Foundation Guard, sent to the exchanges to be redeemed as Terra desperately struggled to defend the peg.
After that, activity is completely normal, with no discernible pattern between Bitcoins entering and leaving the exchanges.
Summary of 2022
Confidence in the exchanges hasn't been this low since the collapse of Mt Gox in 2014. But if you look at the entire year of stock market activity, it's clear that two incidents have undermined that confidence more than any other: Celsius and FTX.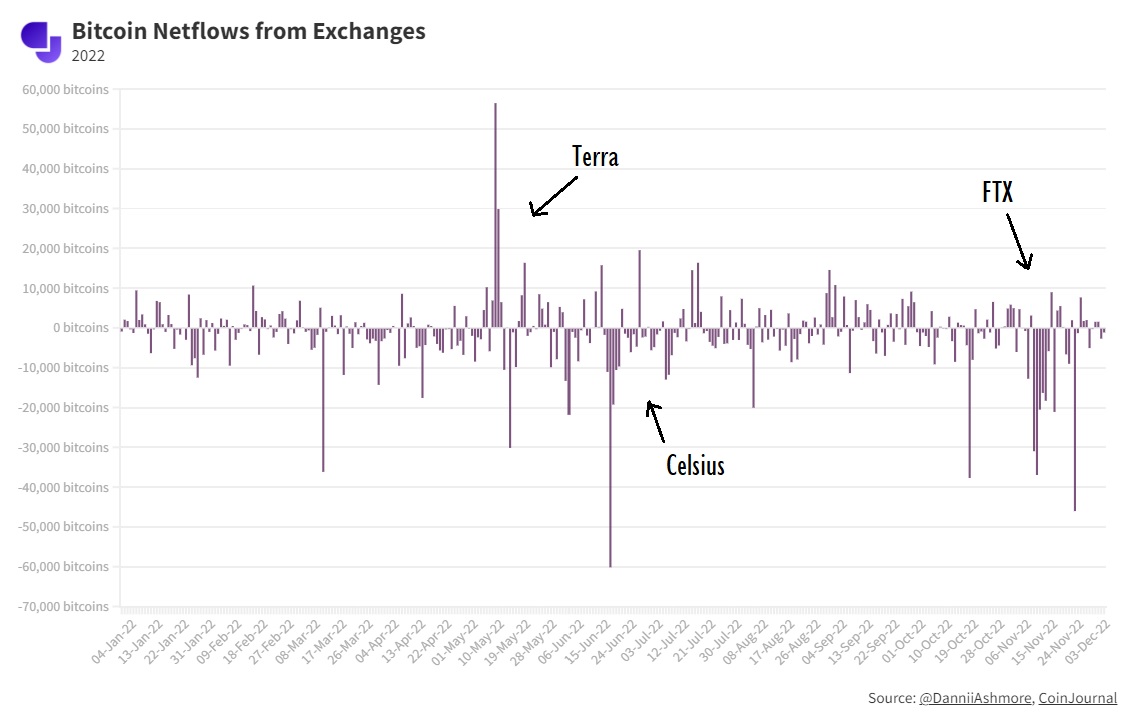 Going forward, only time will tell how badly the cryptocurrency's long-term reputation has been damaged.
If you use our data, we would appreciate it if you would include a link to. https://coinjournal.net. Crediting our work with a link helps us to continue to provide you with data analysis research.
Research Methodology
Data extracted from the chain. Portfolios correspond to known public trading portfolios.