A Hardware Portfolio Review, CoolWallet Pro
It wasn't long ago that a wave of contagion was sweeping so violently through the cryptocurrency industry that it made it seem like nowhere was safe.
Just as Terra, one of the top 10 coins, was hit by the die-off, many companies were caught up in the carnage. Among them were so-called cryptocurrency lenders, some of which posed as banks, but in reality were more akin to aggressive hedge funds.
BlockFi ran into big trouble. Voyager Digital filed for bankruptcy, and its stock price fell 99.8% so far this year. Celsius was perhaps the most publicized, shutting down withdrawals one night, before filing for bankruptcy in the face of claims that the founders had cashed out first.
It all boils down to one piece of advice: if you don't want to swallow a risk you can't quantify, chasing profitability through these platforms is not the way to go. If there's one thing that's true in crypto, it's that cold storage is the safest place to be. Or, as the hackneyed (but true) saying goes, "not your keys, not your coins."
CoolWallet
I tested the CoolWallet Pro, the latest hardware wallet that I wrote a review of.
The first thing that struck me was the rather old-fashioned styling. It looks sort of like a credit card wallet from the late 90's. It won't necessarily win any beauty contests, but it's portable, lightweight, and easy to stash in a safe place. Compared to many larger wallets with screens these days, I like it.
The card comes with a physical button, though it's quite subtle and you'd barely notice it if you weren't looking at it – it's almost flat against the card. It's the only button on the card, and once you've paired it with your phone via Bluetooth (a very seamless process, I must say), all instructions and prompts are executed in the app. It's easy.
The card also has a very small screen, about 2 cm in diameter and 1 cm in height, with which it provides the user with basic numbers. It's not the most high-tech thing in the world; I feel like I'm typing words on a calculator screen to my friends in elementary school math class, but hey, it gets the job done.
Install
And so I link it and follow the instructions in the application. Of course, the first thing to do is to set the startup phrase. And, as is often the case, this is a bit of a painful process. I get 12 numbers of 5 digits each, which I write down one by one on a sheet of paper, pressing the button on the card to move to the next one each time.
It's a bit of a nightmarish process, although it's more a lament of the whole process of the opening sentence than anything to do with this wallet. I think it's inevitable that cryptocurrencies will develop and that this starter phrase will seem laughable to us, but for now it's the best security option. Also, it takes about two minutes here with CoolWallet, so I'm complaining.
Overall, the setup process is very straightforward. Sure, the screen is a little choppy and can be hard to read, but that's okay. The only real complaint I have about the hardware is the charger. It's a micro-USB, something I thought was doomed to the past at this point, worthy of being tossed in a drawer with DVDs, tapes, and wired headphones.
It comes with a cable, which is nice and makes it easy to connect via USB to a power outlet. But personally, I don't like having to keep an extra cable just for this device: all my other devices (laptop, phone, speaker, headphones) are USB-C, as well as the hardware wallets I currently use. So for me it would be prohibitively expensive. I know you Apple fans like to have your own cables for everything, so maybe I'm exaggerating a bit.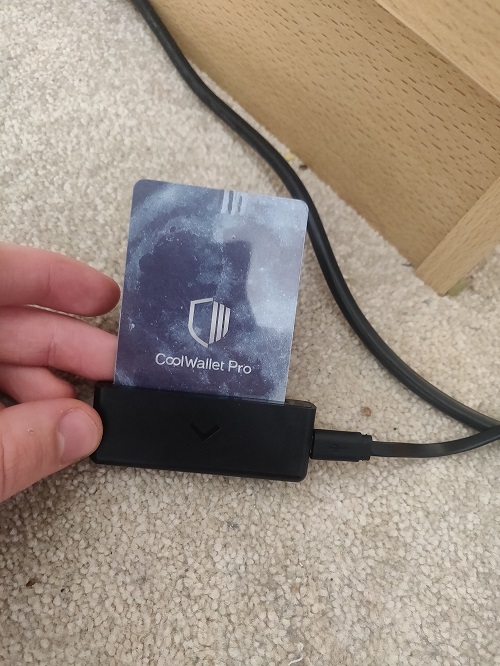 Connectivity and features.
Now that I've set it up, CoolWallet is awesome. The app has an excellent interface and is intuitive and fluid. The functionality is excellent. It's easy to send and receive cryptocurrencies, which you know, that's all that matters…..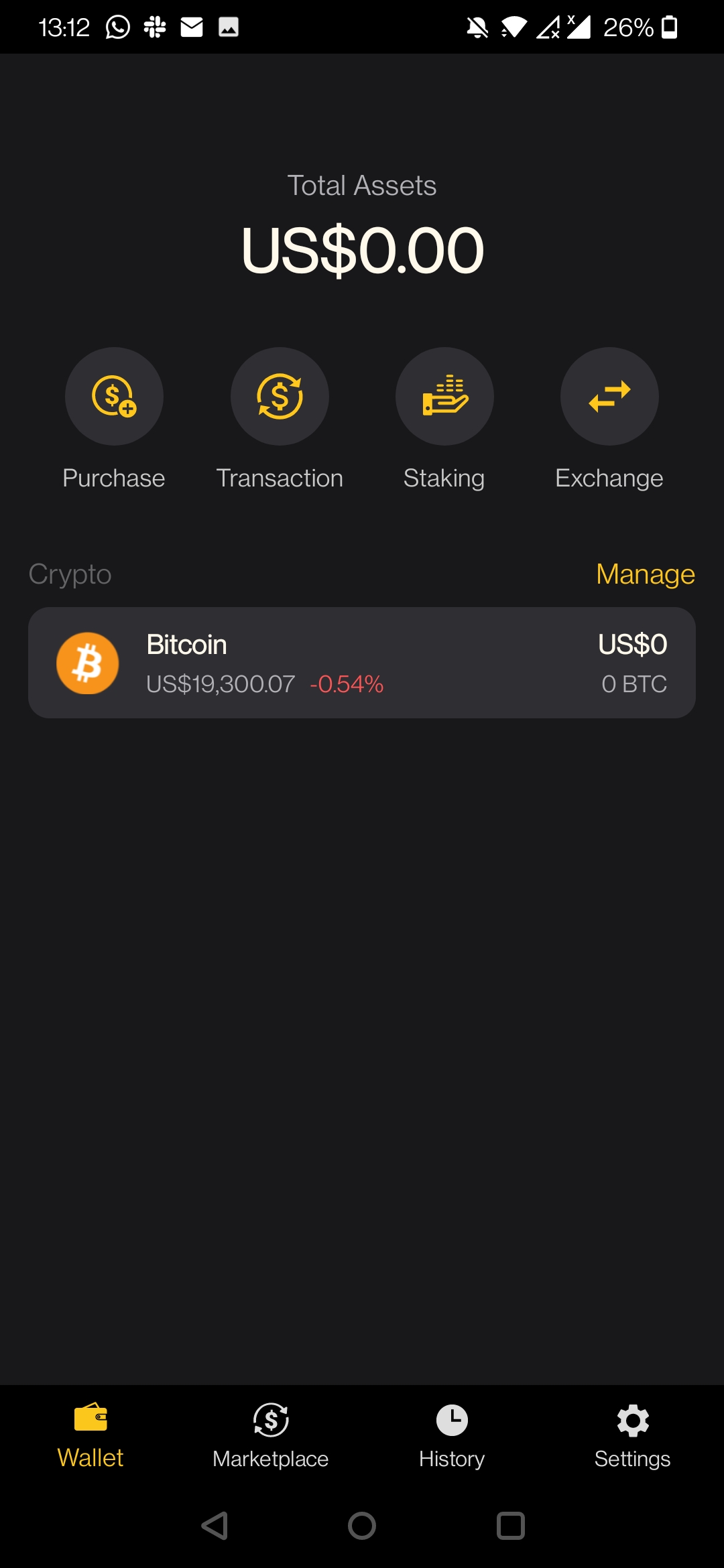 There are also betting options that some customers will no doubt appreciate. The range of wallets is nice; it has everything you could want. ERC-20, BEP-20 and many others. Bluetooth is easy to use. Once set up, it is as simple as any hardware wallet to use.
But the connectivity to other platforms is a step up. I can connect to OpenSea if I want to and run NFTs up to cows. I can also send my ETH to Lido. Metamask is another option, as is connecting to Binance DEX. There are many more. It seems like the range of features, options and connectivity channels here is as good as it gets, really. It's impressive: you can see a selection in my screenshot below: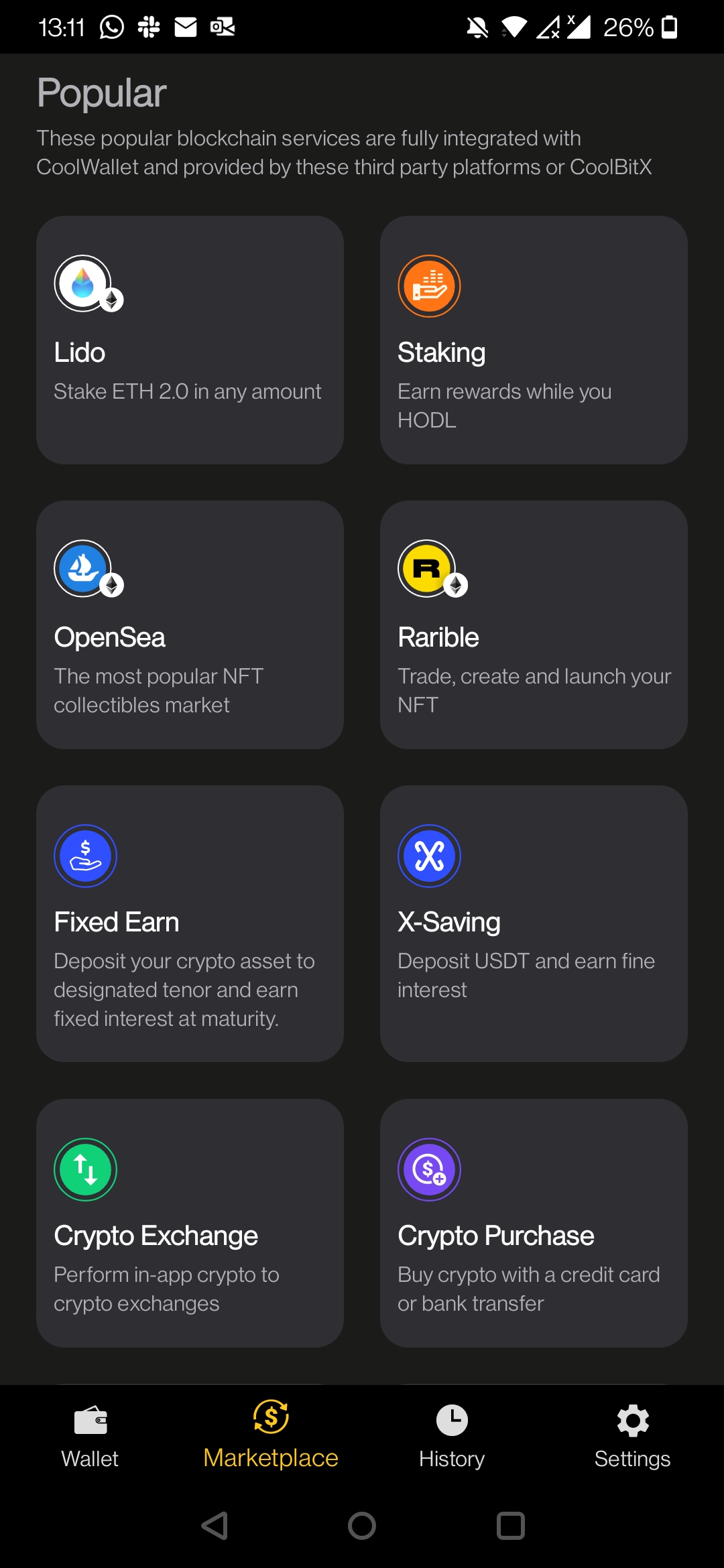 The price is still important. It retails for $149, which is roughly in line with most portfolios on the market. That seems reasonable. I guess you're paying more for features and connectivity than hardware here, given that it has no display and feels a bit "old school". But are these concerns really relevant to a hardware portfolio that will be stocking?
Conclusion
Everyone is different in terms of what they want in a wallet. Obviously, security is paramount, something most wallets have figured out, and this one is no exception. The next thing is to provide the range of wallets you want and the features you want. This is where CoolWallet excels, as the features will not be beaten.
Secondly, people want something that is easy to use. It's as simple as it gets, once it's set up. But for me, portability and unobtrusiveness are important factors. It looks like a credit card, which means I can put it in my wallet or hide it in a safe place easily. It's very easy to store. Some of the other wallets I've used are larger, have screens or look more technical and advanced.
While the latter may seem like a plus, I like that the CoolWallet looks so innocuous, it looks like an expired credit card or a weird supermarket loyalty card or something. If I keep this at home and my house gets robbed, it won't get stolen unless the thief knows about cryptocurrencies, in other words.
In conclusion, I think it's on par with the best wallets I've used. It's a shame about the micro USB charger, but I'm an Android guy and like to have a cable for everything. Overall, if you're looking to get into cold storage, this is a solid option – the CoolWallet Pro is a great hardware wallet with top-notch features.